28 November 2021
---
Too long, don't read: Come ride the Grom Pre ︎︎︎ January 2022 ︎︎︎ giving big country, wide hats ︎︎︎ register
here
Jambz and Me on the Grom Pre Maxx
---
I can barely hear the Willie Nelson 'Always' cassette playing from the deafening rumble that is being inside a troopy on the freeway. We're headed north, to reunite with all-time dreamboat Jambi Jambi, in search of that gravy train off-road 1x1 cycle packing. I left the iPhone at home - liberating and also a little daunting.
Thought I knew the way from Canberra to Walcha pretty fine. 8 hours up that big freeway, a few more turns to shoot into the country side. But a few mindless turns start pointing me down roads where something feels a tad off. With nothing but a state wide map, I plant it on the steering wheel, flailing and flipping from the warm air rushing past us. It seems kinda out of date. New roads that this map has no answer for. Starting to realise the extent of my dependency on that tiny little computer.
Arrival feels like getting off a ship with a choppy tide in the rearview. Henry and Jorj welcome me with open arms and wide grins (and a drink). The lot of us in the safe haven of inside - not from merely the harsh elements but the 11 kelpie pups that want nothing more than to chew us into oblivion.
We spend a few days tying up loose odds and ends before a ride to scout the Grom Pre Maxx route. More about that
here
. A quick overnighter shakedown ride makes us realise that we are not the type of tourers to 'shakedown'. A good warm-up for our cob-web crunchy legs though.
Conversation is often about all the creative ideas we won't execute in the coming week of riding.
A few minute changes (Jambz switches to flats; Jack brings Annie Proulx) and we're off under the thick blanket of steely cloud. The idea is vaguely that rain will be the default over the next week unless otherwise noted. We get pretty lucky (heck maybe a little too lucky in my case - caught a good ol amount of sun leaving my shoulders a shade of cherry).
River crossings are mostly crossable (Jorja got swept away only once). We labour to make fire from wet wood in an effort to dry our gear each night. The rain sometimes attempting to stamp out the hard earned heat.
With no music or podcasts, my mind is probably a little too chatty. Jambz and I get swept away in conversation and all of a sudden it's 10am and we haven't started riding for the day (slightly less guilt that it's a torrential downpour outside). We debate everything between 'is lady gaga too much?' to the moral and ethical dilemmas of modern life. Jambz teaches me about Linda Evangelista and I pass on a cheesy old aphorism that stuck with me from the PCT.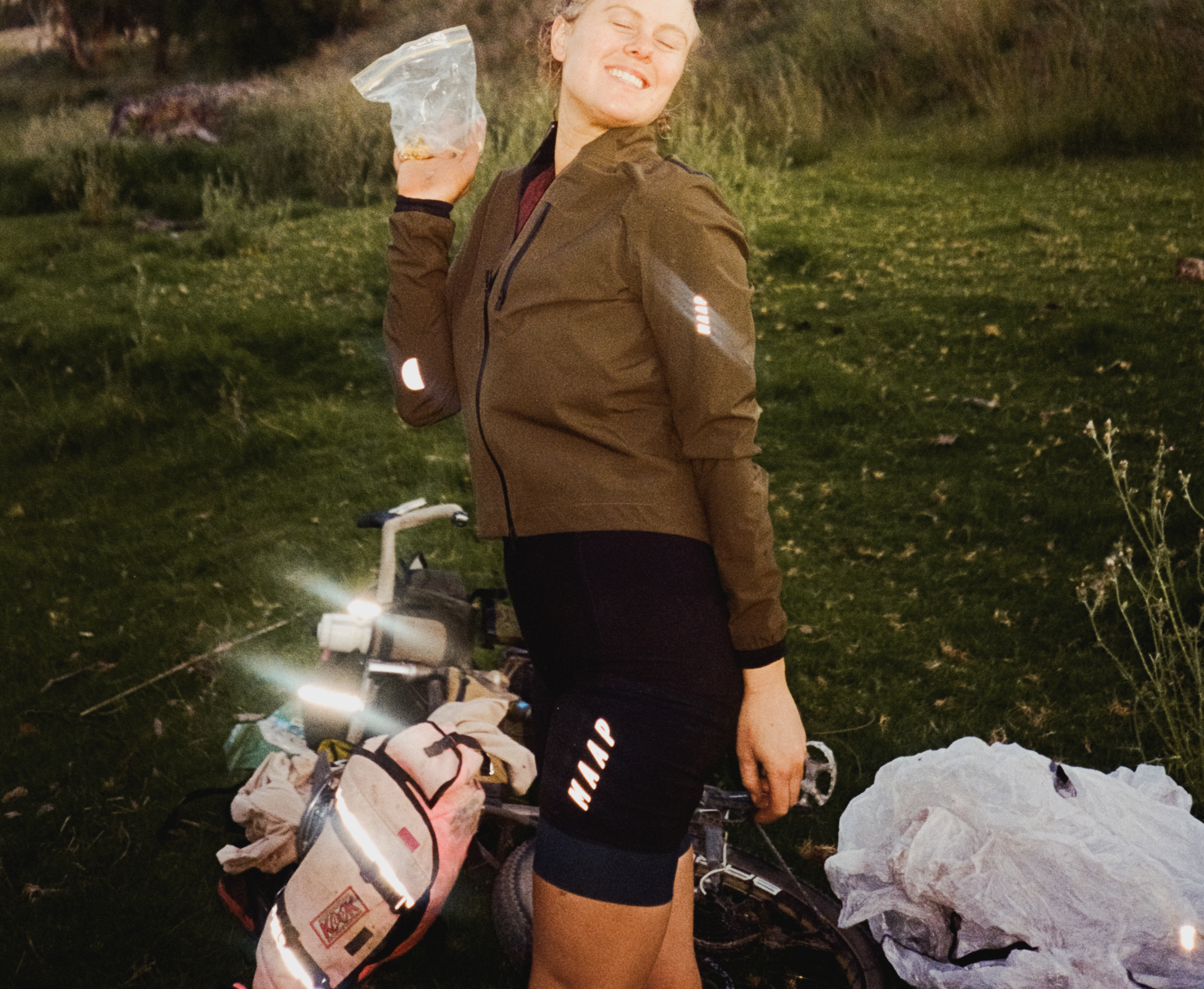 The riding is good, we often don't see tarmac for the whole day. Our tires leaving faint tracks in the wheaten gravel. We move fast and take long breaks.
Dipping into pine clad valleys with swollen rivers always comes with anticipation - is this going to be the point we shall not pass? Optimism rarely breaks down despite a few impossible crossings (Jambz always quick to re-route a work around).
The roadsides are thronged with spring flowers and butterfly clusters in the hundreds. It is one of the wettest springs in living memory but to hell with staying inside.
---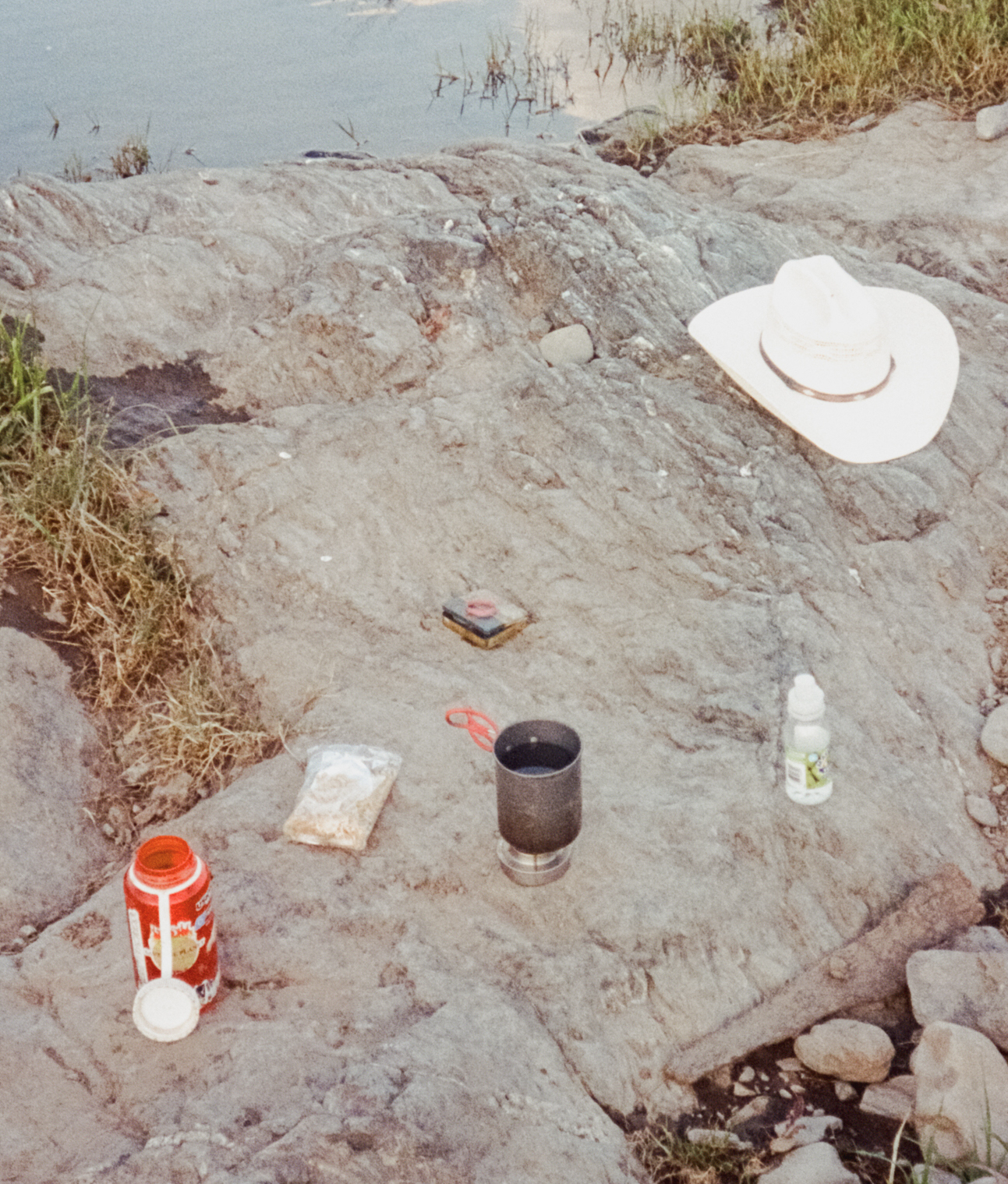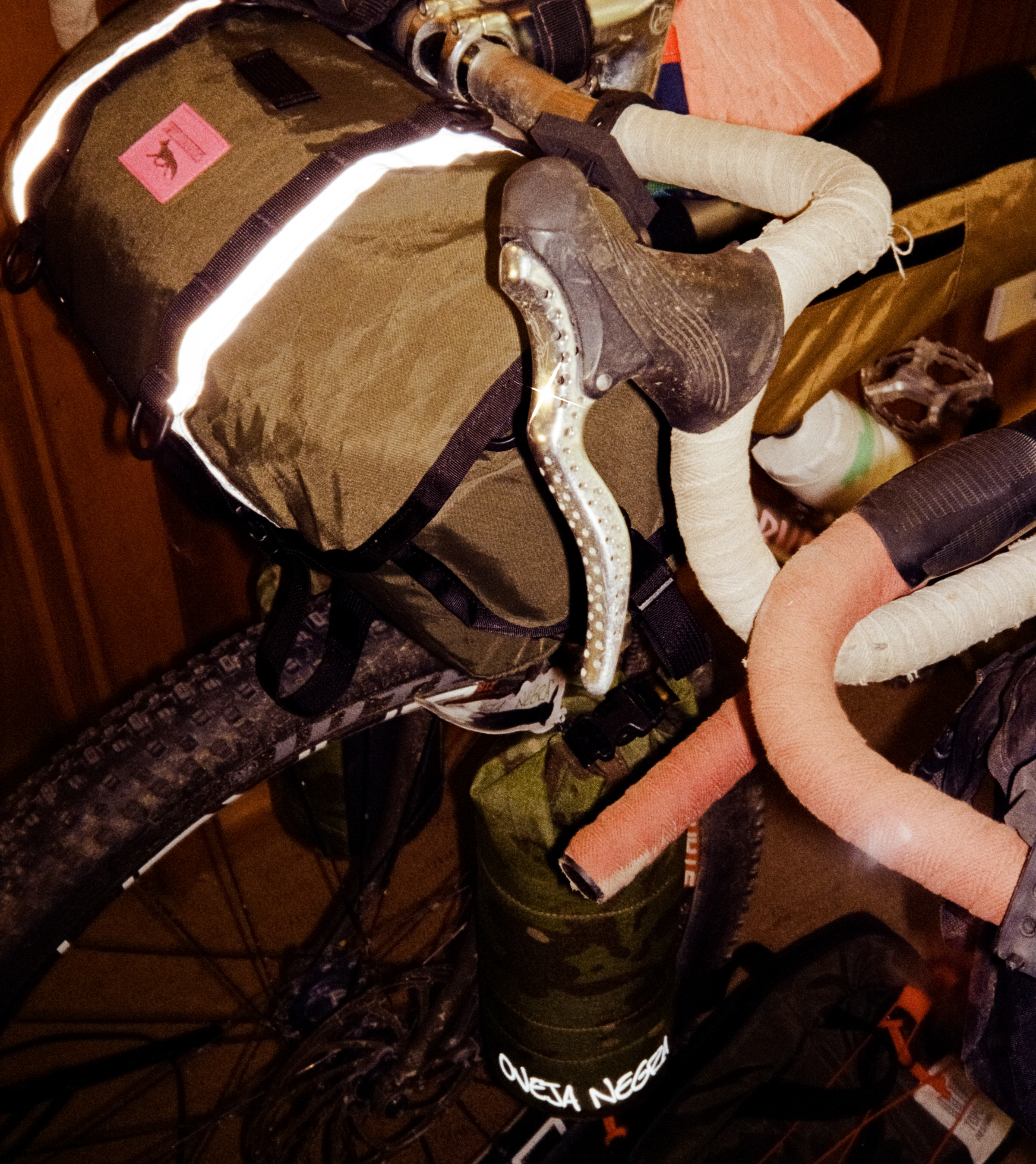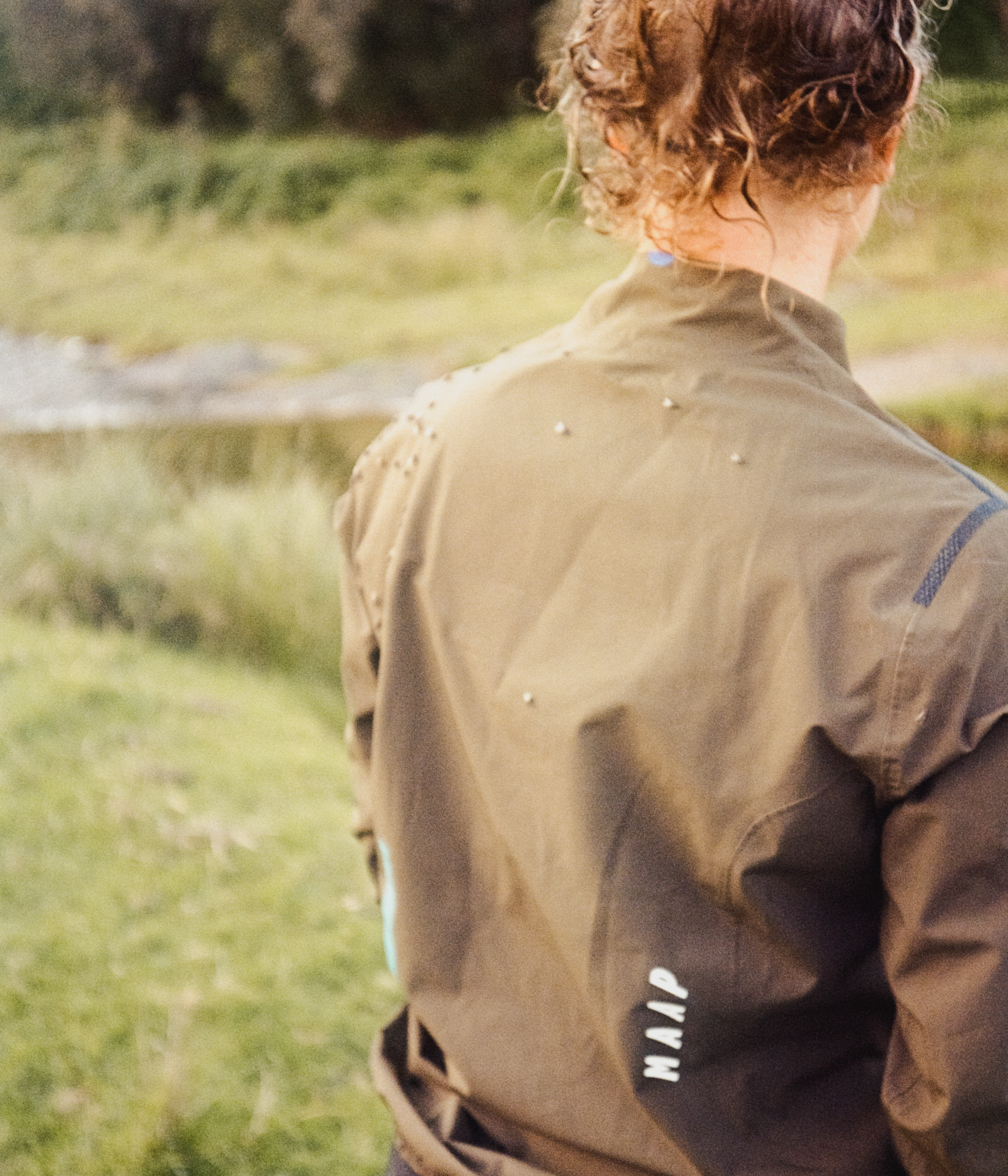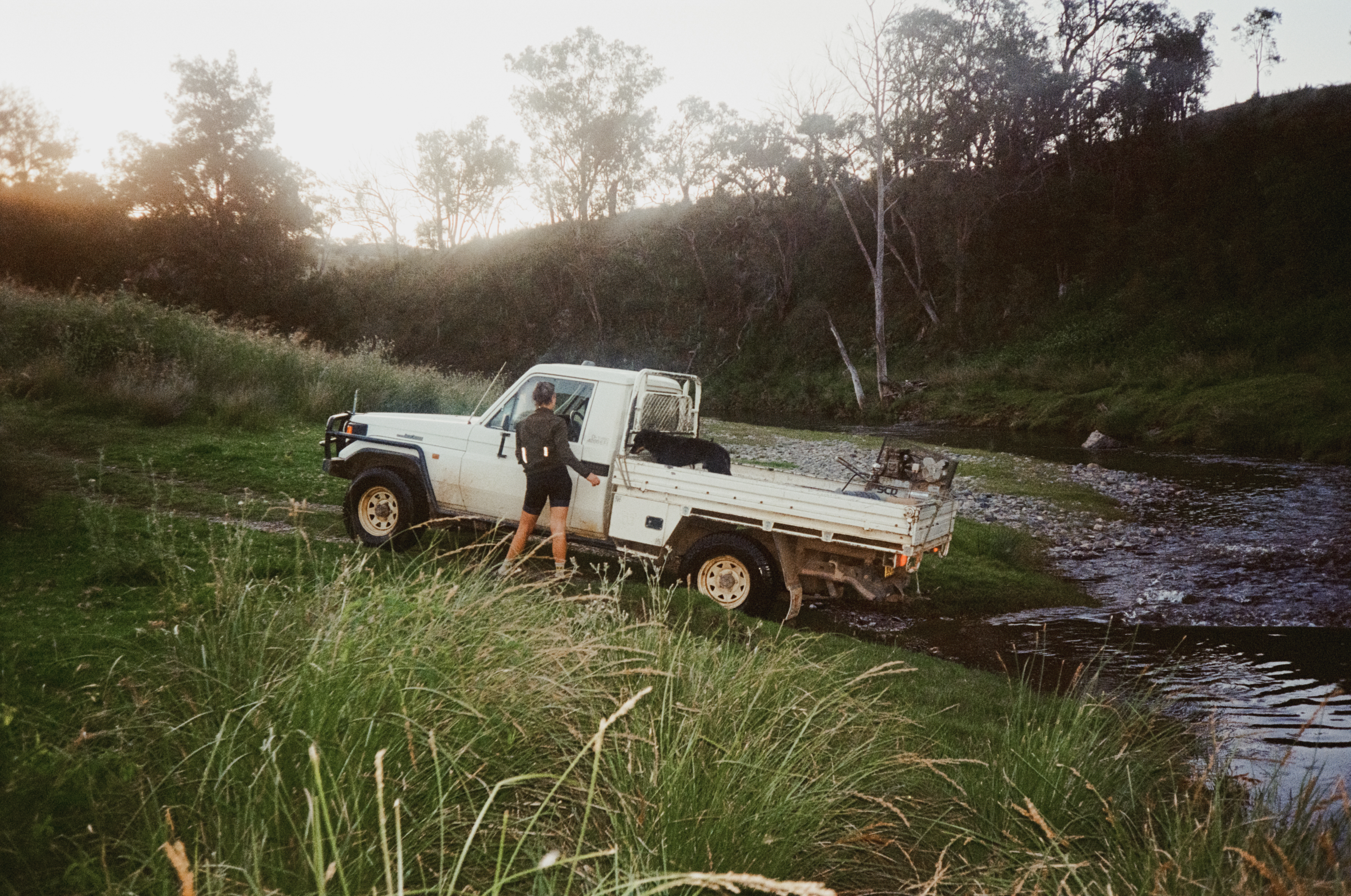 ---
Photos: Olympus Mju 1 w/ Kodak Portra 400 and Kodak Gold 200
Bike bags: Oveja Negra, Swift Industries ︎︎︎ Available at
Jambz Distribution
Hat: Resistol
Route maker / muse:
Jambi Jambi
---